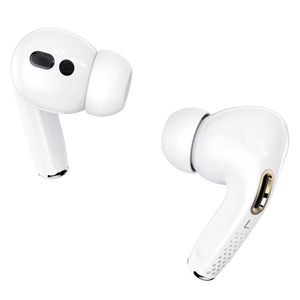 Quran Buds Pro  - Wireless EarBuds with Full Quran
In Stock Now - Next Day Delivery In UK 
To Order Personalised (Adding Names / Text) Please Click Here or Visit QuranCubePersonalised.com
Wireless EarBuds with Full Quran Built in ( And Other content)
Can be used as Normal Wireless EarBuds too, by Bluetooth
All The Content Below Will Be Included On ALL Our Quran Buds : 
Full Qurans
01 Sheikh Mahir Al Muaiqly
02 Sheikh Sudais
03 Sheikh Shuraim
04 Sheikh Yasser Al Dossary
05 Sheikh Abdullah Juhany
06 Sheikh Salah Al Budair
07 Sheikh Ahmed Al Ajmy
08 Sheikh Abu Bakr Shatri
09 Sheikh Saad Al Ghamdi
10 Sheikh Abdul Rahman Al Oosi
11 Sheikh Mishary Al Afasy
12 Sheikh Bandar Baleela
13 Sheikh Hudhaify
14 Sheikh Buayjaan
Selected Surahs (Not Full Quran)
15 Mufti Menk
16 Qari Ziyaad Patel
17 Fatih Seferagic
18 Hazza Al Balushi
19 Ismail An Nurri
20 Omar Hisham Al Arabi
Quran Translations - Full Quran
21 English – Mishary Al Afasy
22 Urdu – Sheikh Sudais
23 Quran Memorisation (Hifz Mode) - Full Quran
Hifz – 13 Line Pages – Saad Al Ghamdi
Hifz – 15 Line Pages – Sheikh Shatri
Hifz – Quarters of Juz – Sheikh Dossary
Other Content
24 Quran Tafseer - Mufti Menk
25 Seerah – Mufti Menk
26 Prophets Stories – Mufti Menk
27 Hadith – Imam Nawawi 40 Hadith (English)
28 Hadith – Riyadh us Saliheen (English)
29 Adhan
30 Nasheeds (Arabic – Eng – Urdu)
________________________________________________________
Audio Speed can be adjusted faster or slower.
Bookmark audio to save progress and get back to a certain point of the Quran faster.
Voice recorder
Repeat function
Choose a specific page of the Quran
Can be updated by yourself, adding extra recitors etc
Can be used in a car which has USB support
QuranBuds Case Charging time: 2.5hrs. 
QuranBuds Case Playing time: 10.5 hrs (Audio playback + EarBuds connected by Bluetooth)
Earbuds Charging Time (In Case) : 1 hour
Earbuds Playing time: 4 hours
EarBuds Charging From One Full Charge Of Case  : 4 times.
Please ensure your USB Plug Is a Maximum of 5V 1A power output. 
DUE TO COVID / HYGIENE REASONS, WE CANNOT ACCEPT RETURNS FOR THIS PRODUCT ONCE THEY HAVE BEEN USED.