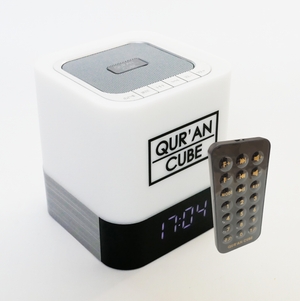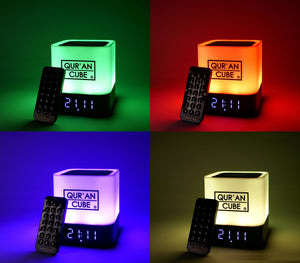 Rose Gold

 

–

 

Gold – Silver 
Full Quran
31 Reciters
Remote Control
5 Times Adhan –  Adhan Times To Be Set Manually By User - Not Automatic
Quran Memorisation Mode
Hadith, Seerah, Prophets Stories, Quran Tafseer 

(All in English)

Duroods & Nasheeds
Rechargeable
Bluetooth
Clock
Size =

 

12cm

The Quran Cube LED X Contains 31 Different Recitations Of The Quran
LED Multicoloured Touch Lamp

Remote Control

USB Rechargeable

Bluetooth Connectivity

Play Your Own Audio Using USB Drive, SD Card or Bluetooth

Sleep Mode (Set A Timer To Switch Off The Quran Cube Whilst You Fall Asleep)

5 Times Adhan Alerts (Adhan Time To Be Set Manually By The User - Not Automatic)

Bedside Clock

Volume Control

Choose The Surah And Recitor Easily Using Remote

Rewind & Forward Function

31 Different Recitors / Imams

English, Urdu, Indonesian Translation

Hifdh – Quran Memorisation Mode

130 Nasheeds (No Music)

Full Seerah Series (Life Of Prophet Muhammad SAW – By Mufti Menk) (English)

Full Prophets Stories Series – By Mufti Menk - (English)

Quran Tafseer - Mufti Menk - (English)

Hadith – Full Riyadhus Saliheen – 372 Chapters (English)

Imam An Nawawi 40 Hadith (Arabic & English)

40 Duroods

Rukyah And Manzil
Reciters (Full Quran):
SHEIKH SUDAIS
SHEIKH MAHIR AL MUAIQLY
SHEIKH YASSER AL DOSSARY
SHEIKH SHURAIM
SHEIKH ABULLAH AL JUHAINY
SHEIKH SALAH AL BUDAYR
SHEIKH BANDAR BALEELA
SHEIKH MISHARY AL AFASY
SHEIKH ABU BAKR AS SHATRI
SHEIKH ABDUR RAHMAN AL OOSI
SHEIKH AHMED AL AJMY
SHEIKH SAAD AL GHAMDI
SHEIKH HUDHAIFY
SHEIKH LUHAYDAN
QARI ABDUL BASSIT
SHEIKH KHALID JALEEL
SHEIKH ABDULLAH BASFAR
SHEIKH HUSSARY
QARI FATIH SEFERAGIC
SHEIKH NASSER QATAMI
MUFTI ISMAIL MENK
(ENGLISH) SHEIKH MISHARY AFASY
(URDU) SHEIKH SUDAIS
HIFDH – MEMORISATION, SAAD AL GHAMDI (13 LINE PAGES)
HIFDH – MEMORISATION, SUDAIS ¼ (QUARTERS OF JUZ / PARA)
Reciters (Selected Surahs):
SHEIKH BUAYJAAN
QARI HAZZA AL BALUSHI
QARI FATIH SEFERAGIC
ISMAIL AN NURRI
IDREES ABKAR
JIBRIL WAHAB
QARI ZIYAAD PATEL
QARI AYYUB ASIF
DUAA'S
HADITH MODE
RIYADH US SALIHEEN (ENGLISH) – 372 Chapters
HADITH – IMAM NAWAWI 40 Hadith – (ARABIC)
40 DUROODS – Qari Ziyaad Patel
MUFTI MENK (English)
PROPHETS STORIES 

(English)

WHAT IS ISLAM
SEERAH 

(English)

QURAN TAFSEER - MEANING / EXPLANATION OF THE QURAN 

(English)
RUKYAH AND MANZIL
NASHEEDS(140 – No Music) – Artists Include:
Junaid Chapti
Kamal Uddin
Maulana Imtiyaz Sidat
Ahmed Bukhatir
Labbayk
Maximum of 5V 1A Usb Plug to be used to charge the device. 
Items Are Posted Monday-Friday 9-5
International Delivery Times Can Vary Depending On The Customs Procedure In Your Country
Please Note - When Ordering From Outside The UK -  There May Be An Extra Customs Charge When The Item Arrives In Your Country. This Is A Charge From Your Countries Customs And Not From Us..