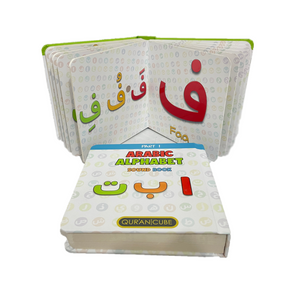 Press The Buttons to hear each letter of the Arabic Alphabet ! 
All Letters of Arabic Alphabet
3 Vowels For Each Letter eg. ( Ba, Boo, Bee) 
2 Part Book, Both Parts Included in One package.
Here at Quran Cube, We have 2 young daughters Both under the age of 2 Alhamdulillah. We were looking for a fun and interactive way to teach the kids the Arabic Alphabet. Pappa QC wanted to create a product where the kids can press a button and hear the letters of the Arabic Alphabet. We thought this would be a great way of teaching them the letters of the Qur'an.
Kids like to learn things in an interactive way. This is where our Arabic Alphabet Sound Book will come in inshaAllah. Our book teaches all the letters of the Arabic Alphabet as well as the 3 different vowels for each letter. We hope this book will help your child take their first step towards being able to read the Qur'an! It is never too early to start teaching them our beautiful deen. 😍